Makes Me Care More! is the 128th chapter of Miki Yoshikawa's Yamada-kun to 7-nin no Majo.
After realizing that Miyabi was placed under the influence of a Witch, Ryu locates Rui, but the Seventh Witch has questions of his own he wants answered.
Summary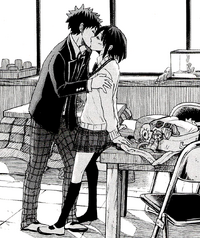 Shocked, Urara and Kentaro question Ryu's conclusion regarding Miyabi's condition. He tells them that it seems like Miyabi has developed feelings for him, annoying the two. He then asks them about what they were doing, remembering that Urara claimed she was headed to cram school. Before long, she reveals that Miyabi told her that he was craving Tempura, and likewise, Kentaro was told that Urara needed help and thus why they were shopping for a cook book. They decide to investigate Miyabi further, leading Ryu to locate her and ask for a kiss. After she reminds him that he is with Urara, prompting inquisition on Urara and Kentaro, who are watching from outside, as she would normally question if they will be testing out a power, he kisses her, but nothing happens, proving his claim.
Ryu tells the two that she is under the influence of a Witch, asking them to call Toranosuke. Once he arrives, Miyabi reveals that she does not remember kissing anyone, but her actions state otherwise as the power forces her to act differently. Eventually, Miyabi blames herself for trying to brake the Supernatural Studies Club, explaining that she was simply a little jealous of Urara. Toranosuke pulls Ryu to the side, telling him that Nancy does not know anything about this power. This leads him to find Rui, but he refuses to reveal anything, rather asks for information on his own power regarding his abilities to erase memories.
Characters in Order of Appearance
Abilities used