Tatsumi Yamada
Kanji

山田 辰巳

Rōmaji

Yamada Tatsumi

Characteristics

Gender

Female

Hair Color

Blue

Eye Color

Blue

Professional Status

Occupation

Elementary Student

Personal Status

Status

Active

Relative(s)

Towako Yamada (Mother)
Unnamed Father
Ryu Yamada (Older Brother)
Urara Shiraishi (Sister in law)
Unnamed Nephew(Nephew)
Unnamed Niece (Niece)

Debuts

Manga Debut
Image Gallery
Tatsumi Yamada (山田 辰巳 Yamada Tatsumi) is the daughter of Towako Yamada and the younger sister of Ryu Yamada.
Appearance
Personality
Plot
Futuristic Arc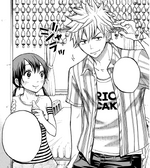 Witch Hunting Arc
One night in Ryu Yamada's room, Tatsumi compliments Nene Odagiri wishing for her to be her older sister. Shinichi Tamaki then asks what she thinks about him, she responds that she would rather have Toranosuke Miyamura to be her older brother, stating that he is a big dork shocking him. Ryu listens to her, stating that he is just has handsome as Toranosuke, she blandly leaves and wishing them fun.[2]
At home, she brings her dishes to the sink, noticing her brother's strange behavior. As he worries about being late for school, she questions him for going early. As he leaves, she thinks on how he has been acting weird lately.[3]
Winter Break Arc
Recovering the Lost Memories Arc
During spring break, Tatsumi and her parents go on a family trip, leaving Ryu Yamada behind and she teases him, reminding him that his make up exams are tomorrow.[4]
One day, Tatsumi and her parents go to visit relatives overnight, leaving Ryu to watch the house.[5]
Appearances in Other Media
OVAs
Another of the Suzaku Festival: Sing! Dance! Paranormal Research Department!
Relationship
Etymology
The name Tatsumi means "dragon" (辰) (tatsu) and "sign of the snake/serpent (6th sign of Chinese zodiac)" (巳) (mi).
Tatsumi's surname Yamada means "mountain, hill" (山) (yama) and "field, rice paddy" (田) (ta/da).
Trivia
Tatsumi enjoys watching male idol stars.[Ch. 33]
Reference