Telepathy (テレパシー Terepashī) is a Witch Power and a variation of Mentality.
Description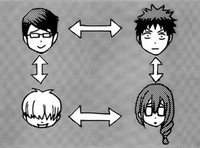 The user can communicate with those under their spell, those affected can also send messages to the holder of the power[1] and others under the spell.[2] To use the power, one must picture the recipient in their mind clearly while sending the messages.[3] In addition to communicating thoughts between those subjected to their telepathy, they can also project images into each others minds. Ryu and Nene have claimed that the telepathy power is similar to using a cellphone.[4] It is interesting to note that Meiko's power is the only one among her group of witches that is two-ways (or even multiple-ways) due to the fact that both the kisser and the one kissed can use the power (i.e. send telepathy).
Risk/ Drawback
If the user does not have a great imagination, that is if they can not focus a proper image of the recipient, then their telepathic message will not be received.[3] The telepathic messages cannot be blocked out as long as the power is in effect.
Casted Spells
References